It was time to clear the air.
In an effort to make Mizzou a cleaner and healthier campus, MSA spent years working with campus administrators to move toward a smoke-free campus. By July 2013, there will no longer be designated smoking areas on our campus. Due to work by MSA Senate and former MSA President Xavier Billingsley and his Executive Cabinet, the university agreed their previous goal of July 2014 one year forward.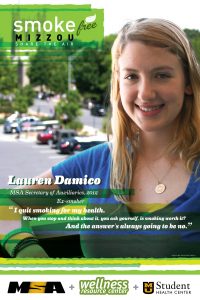 Timeline
July 2011: Although work to make the campus smoke-free had been in motion for years, one of the first concrete steps was made in July 2011. Moving into phase two of its smoke-free plan, the campus set up designated smoking areas on campus, but the majority of the campus was smoke free.
April 2012: In a joint session of MSA, the Residence Halls Association and the Legion of Black Collegians, MSA President Xavier Billingsley proposed a resolution to move the deadline for the third step in MU's smoking ban from January 2014 to January 2013. The resolution is passed by all three organizations, showing widespread student support for ending the delay to make MU a cleaner environment.
May 2012: Vice Chancellor for Student Affairs Cathy Scroggs announced MU's intention to make the move to a totally smoke-free campus in July 2013, six months ahead of its originally planned date.
October 2012: MSA began engaging in an education campaign to encourage students to go smoke-free and to spread word of the impending transition to a campus without smoking. This campaign includes a poster and video campaign with the Student Health Center and Wellness Resource Center.
August 2018: MU implements a new tobacco policy, freeing the MU from use of all tobacco products by University Community on University property.
As of August 2018, the University of Missouri's campus is tobacco-free.